Mechanical contractors can be found in nearly every industry. While their job descriptions vary depending on the sector they are in, Mechanical Contractors are generally in charge of installing, maintaining, and repairing mechanical systems - including plumbing, HVAC, piping, refrigeration, and more.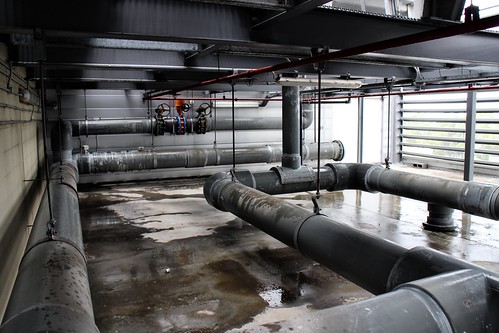 Image via Flickr by Aydun
What is a Mechanical Contractor?
A mechanical contractor oversees various processes within a project that deals with mechanical systems, including installation, maintenance, and repair projects. Mechanical contractors are in charge of anything with mechanical parts, including the production of items and installation of mechanical and automated systems. Once installed, a mechanical contractor can also take care of system maintenance and repairs.
When you think about the core elements of what a mechanical contractor does, it is to problem solve and redesign mechanical systems that aren't doing their jobs properly or efficiently.
What Does a Mechanical Contractor Do?
A mechanical contractor is a jack-of-all-trades. They can work on a wide variety of different projects in many other trades. If there are mechanical parts, a mechanical contractor can ensure everything is installed and working correctly. This includes large-scale plumbing, HVAC, electrical, piping, ductwork, and gas work, just to name a few of the trades they work in.
Mechanical contractors work in a supervisory role where they oversee projects and work with other mechanical workers to ensure the projects run smoothly. They may hire subcontractors who are specialists in their fields to help with projects they are working on.
What Industries Employ Mechanical Contractors?
While your first thought might be that a mechanical contractor works on construction and building sites, there are many more opportunities for them outside of working on buildings. The options available to a mechanical contractor are broad and cover a variety of industries, including:
Automotive
Food processing
Pharmaceuticals
Manufacturing
Technology
Retail
Healthcare
Government
Even places like NASA often employ mechanical contractors to ensure timely and efficient completion of projects. Becoming a mechanical contractor opens a lot of doors and provides plenty of opportunities to specialize in a variety of different sectors.
What Is the Difference Between a Mechanical Contractor and a Mechanical Engineer?
While mechanical contractors and mechanical engineers work on various mechanical systems, there is a distinct difference between the two career paths. A mechanical engineer designs power-producing systems and machines - such as electric generators, refrigerators, AC units, elevators, and more - and their components. While on the other hand, a mechanical contractor handles the installation, day-to-day operation, and maintenance of these systems and machines.
In simpler terms, mechanical engineers manufacture systems and machines for public and private use, and - once that system or device is manufactured - the mechanical contractor performs installation, maintenance, and repairs of those systems and machines. If the mechanical engineer's product isn't working, a mechanical contractor will fix the problem. The mechanical engineer does not deal with their product again.
What Are Some Skills a Mechanical Contractor Needs?
Many hard and soft skills are required for mechanical contractors to do their jobs efficiently. These skills can include, but are not limited to:
Advanced math skills (i.e. statistics and calculus)
Strong problem-solving skills
Communication skills, both verbal and written
Leadership skills
Knowledge of job-specific mechanical systems such as HVAC system, refrigerators, elevators, and more
Job Outlook for Mechanical Contractors
According to the BLS, there is a steady demand for mechanical contractors. Therefore, finding a job shouldn't be too challenging, especially as the industry is projected to add roughly 19,000 jobs by 2029.
Another plus for mechanical contractors is that they can work in almost any industry! There are jobs for mechanical contractors in aircraft mechanics, structural mechanics, sheet metal mechanics, and more. Additionally, many mechanical contractors choose to be field service technicians, where they move between different job sites. Another job opportunity available for mechanical contractors is becoming a general contractor. General contracting allows them to do a wide range of jobs in their contractor role. The development of 3D printing has also opened up doors for mechanical contractors, allowing them to work with this exciting new technology.
At Dahme Mechanical Industries and similar businesses, our mechanical contractors work with air conditioning, heating, plumbing, wastewater systems, and more. Our HVAC technicians continually grow and learn as standards to make buildings more energy-efficient evolve.
Any company or job that uses mechanical parts can have a mechanical contractor working with them.
How Do You Become a Mechanical Contractor?
Typically, the first step to becoming a mechanical contractor is obtaining a bachelor's degree in mechanical engineering or mechanical engineering technology. Once you have your bachelor's degree, you can get a master's degree in your chosen field.
While a college degree is not often required, a bachelor's or even a master's degree can give you advantages over the competition, including an edge on getting a job and an increased pay rate.
After you obtain your degree, the next step toward becoming a mechanical contractor is obtaining your license. To get a license, you must take a written and practical exam proving that you are qualified to be a mechanical contractor. Although a college degree is not required to sit for the license exam, it will immensely help with your preparedness for the exam.
In addition to your education and your license, it is crucial to have on-the-job experience. It's hard to help problem-solve when you haven't done the work yourself to know how each of the systems you work with operates. Once you have obtained your license, you can apply to entry-level positions or apprenticeships, where you will gain the knowledge and performance skills necessary to excel in your mechanical contractor career.
Licensing in Illinois
Illinois does not have a specific, state-wide mechanical contractor license; however, as a mechanical contractor, you are required to hold an HVAC license. This license lets you work as a mechanical contractor and also enables you to hire technicians. In Illinois, licenses for mechanical contractors are issued at the local level in counties and cities. Be sure to check the specific regulations of the city and county you work in before applying to positions or starting a project.
To acquire a license, you must submit an application fee, surety bond, general liability insurance, licensed plumber information, business entity information, and job experience. You may also have to pass a contractor exam once approved for the license. Once you pass the qualifying exam, your license is issued. It is also important to note that licenses need to be renewed annually, and there are penalties if you don't have a valid license.
Contact Dahme Mechanical Industries' Talented Team of Mechanical Contractors Today!
Mechanical contractors are very talented individuals who have extensive knowledge in a wide range of jobs. At Dahme Mechanical Industries, our technicians work in residential, commercial, and industrial sites, helping with plumbing, pipefitting, HVAC, and emergency services. Residential services that they provide include plumbing, heating, and air services.
Do you have a job for a mechanical contractor? Feel free to contact Dahme Mechanical Industries with any questions about your HVAC and plumbing projects. Or you can visit our blog, full of informational articles on all kinds of HVAC and plumbing topics. We serve Arlington Heights and the surrounding areas, including Palatine, Des Plaines, Hinsdale, Schaumburg, and more, and our team is ready to help you tackle any project!